Online Help - MUMTI
Return to
MUMTI
Leave Your Comment here




Installation Related
Latest Release
Previous Stable Releases Available for Install
You may decide to revert to a previously released version at any time. The following are the officially supported previous releases.
Note: Keep in mind that when you choose to install a version-specific copy of MUMTI instead of the default one LATEST it will not update automatically.
Version 1.8 2014/04/01, 2014/05/09
Version 1.7 2014/01/02
Version 1.6 2012/10/25
Version 1.3 2012/02/04
Installation Help & Notes
User Interface Related
Keyboard Shortcuts
TBD
Related Topics
Frequently Asked Questions (FAQ List)
Support This Project
How to Succeed...
---
Future Additions
Adhan reminders (Azan)

Voice feedback on menu selections

Parental Control

Improved Search
Special Requests
Want a custom feature?

Support of another language Spanish, French, German, Italian, Thai, Chinese, Kanji, Farsi, Pashto, Urdu?

Custom content
Make a donation and Contact us
---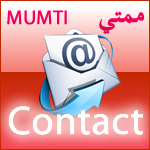 support(AT-SIGN)MUMTI.org to send us mail

© Copyright 2010-2012 MUMTI
Return to
MUMTI
Leave Your Comment here